Ventanas de Guimar 1000 windows and 8 tunnels circular trail
Disclaimer: this article contains affiliate links. You can support us by buying something through one of these links. We may earn a small commission at no cost to you.
Two-sentence summary
The most unique trail in the Canary Islands, blending the best of nature with human ingenuity. Not for the faint of heart.
Ventanas de Guimar or "1000 Windows" trail
Ventanas de Guimar is one of the most unique trails in Tenerife that will amaze both novice and experienced hikers. It is sometimes also known as the "1000 Windows of Guimar" in English although there seem to be slightly less than hundred rock openings in the whole trail.
The trail is unique because it blends the best Tenerife's nature has to offer like mountains and scenic vistas with a unique man-made object. While the trail is longer and diverse, it is best known for the 5 kilometer-long abandoned tunnel system with "windows" ('ventanas' in Spanish) in the face of the mountain.
Practical details about the trail follow below. However, if you don't want the practical details yet, but are looking for an inspiring hike during your Tenerife holiday, jump to the "Visual guide of Ventanas de Guimar trail" section below.
Trail characteristics
---
DURATION: 4-7 hours (2-2.5 hours if you just do the tunnel system and turn back
DISTANCE: 15 km | 9 miles (tunnel system is only in the first 5 km/3miles)
ELEVATION GAIN:1220 m | 4003 ft. The trail is almost flat in the first 5 km. All of the vertical ascent is concentrated immediatelly after the tunnel system
DIFFICULTY: HARD (easy if you do only the tunnels section and turn back)
WHEN TO HIKE: YEAR-ROUND, but only in good weather with no precipitation
TYPE: CIRCULAR (for an easy hike consider turning back after tunnel 7); trail can also be done one-way with finish in Guimar
SPECIAL REMARKS:

Officially this is a closed trail with municipal warning sign at the start; insurance might decline coverage in case of accidents, so proceed at your own risk
Not suited for children, people with vertigo and claustrophobia due to vertical drops next to the trail and window-less dark tunnels 40-300 meters in length
---
Start of trail location & getting there
GPS:
DMS: 28°17'30.8″N 16°25'36.3″W
DD: 28.2918765, -16.4267392
You can download the route GPS coordinates (GPX format) by pressing on the button and then upload them to your favorite mobile phone hiking app (Maps.me, AllTrails or similar).
The best way to get to the trail is with a car. You could try to take a bus as close as possible to the trail, but you will still have to walk at least 4 km until the 'Antenas de comunicaciones' or the radio antenas that you can see from Guimar and the TF-1 route that connects South and North of the island.
The trail is moderately popular, so you could try to hitchike as you get closer to its starting location. However, a better way to get there might be by joining the "Tenerife Hiking Community" Facebook group, and either join a person planning this or another hike, or proposing the hike yourself and informing that you need transportation.
Length, number of tunnels and trail segments
Out of all the 15km trail, the "windows" or tunnels section is in the first 5 kilometers. Kilometers 6-7 are done in a canyon that ascends to an old and now closed mine. Kilometers 8-9 are the ascent on top of the mountain ridge (be aware that it's a non-stop hard ascent of around 1000 vertical meters). Kilometers 10-15 are the descent back to start of the trail at the radio towers.
Trail difficulty:
Easy if you just go in the tunnel system and return to start of trail. Total vertical elevation will be only around 100-150 meters | 300-450 feet. To get the full experience of this trail, you can only go to tunnel 4 out of 7 and then turn back.
Moderate if you take the one-way route from the radio towers to Guimar city. You will encounter some vertical ascents, but much less than in the full circular route. Suggested route on Wikiloc.
Hard if you'll do the full circular route with ascent to the mountain ridge and descent back to the radio towers.
Safety
The most important thing to take along is a flashlight or a headlamp. You can, of course, use your mobile phone flashlight, but that won't be as comfortable in the confined tunnel space.
Some blogs advise to wear a helmet. We personally think that this advice is exagerated. The only danger is from knocking your head on the tunnel ceiling that has sharp protruding rocks, but using a flashlight should allow you to crouch at the right spots.
We would advise to take along a power bank, as you are bound to take many pictures with your mobile phone, as well as use a navigation app with GPS on. If you will also use your phone flashlight, this will ensure you will not run out of battery mid-trail.
Do not wear flip-flops, but mountaineering boots are also not necessary. You can absolutely do the trail with your regular sneakers. The trail is generally event, but you'll want to use shoes with a sole that can't be punctured by sharp rocks in the tunnels, nor ones that slips off on the ascents.
History
The tunnels were dug at the start of the 20th century to channel water. However, sources are conflicting on whether it was to bring mountain water downhill, or for laying pipes to pump water uphill to remote communities living in the modern-day Teide Natural Park territory.
Visual trail guide
ADD SCREEN SHOTS FROM THE VIDEO
Car park
Warning sign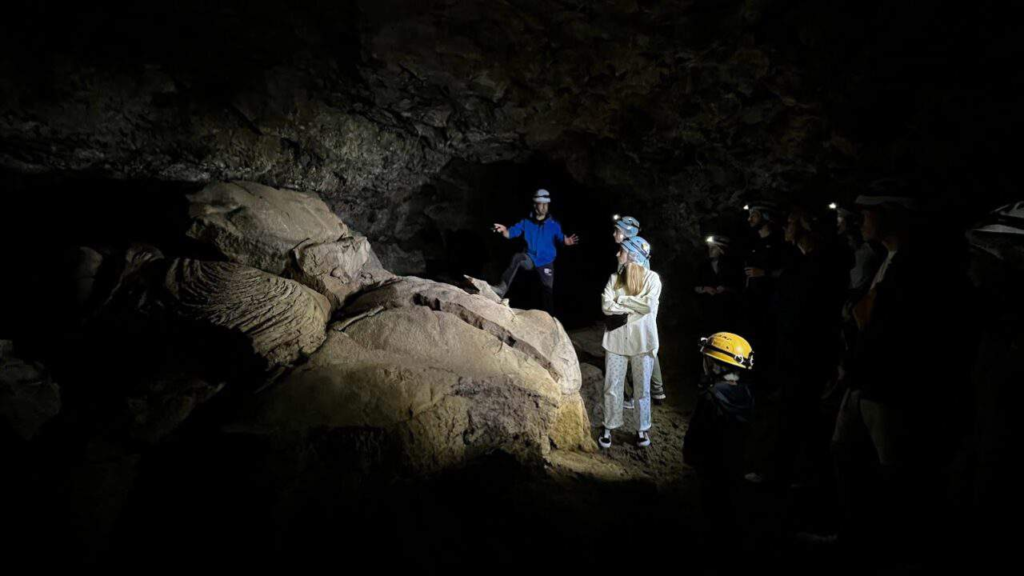 Video – Vertical drops next to the Ventanas de Guimar trail
video – Mountain above tunnel 7 on the Ventanas de Guimar Trail
Frequently asked questions
How many windows does the Ventanas de Guimar trail have?
Hikers who've tried to count the windows, seem to agree that there are between 92 and 98 windows in the Ventanas de Guimar trail.
It's a tough question to answer precisely, because in tunnels 7 and 8 it's sometimes hard to decide what counts as a window and what is already open space. If you did your own count, please share in the comments below.
Can you do the trail in bad weather?
Yes, you can, however, it is not advised.
If you do the trail in bad weather, consider doing only the tunnels part and then turning back. In the first 5km of the trail there are only 2 spots where there have been small landslides and the trail is not level, and you need to hold on to the concrete waterbed when crossing these spots.
Questions or comments?
If you have a question, the best solution would be to post a comment below. This way we not only get to reply to you, but also let other readers benefit from the information. But, of course, you are also welcome to contact us by email.