Barranco de Los Arcos canyoning – a top Tenerife activity for adventurous travellers
Disclaimer: this article contains affiliate links. You can support us by buying something through one of these links. We may earn a small commission at no cost to you.
Summary
Barranco de Los Arcos canyoning / rappeling should be among top bucket list activities in Tenerife for adventurous travellers
Fun activity for everyone from total begginers to sports buffs, aged 12-80 years
Beautiful canyon and surroundings even by Tenerife standards
Introduction
I had Barranco de Los Arcos on my Tenerife "bucket list" for a long time, but I thought I'd never do it because it requires special rapelling equipment and skills. However, when buying tickets to the Loro Parque through the GetYourGuide.com website, I was happy to notice that a rapelling / abseiling tour of the Barranco de Los Arcos canyon is also on offer and has superb review from over 93 persons. I booked it and was very happy that I did!
Canyoning in the Barranco de Los Arcos (Arches Canyon) is definitively ranked among my top Tenerife experiences along with hiking the Teide volcano and doing the TF-11 trail in the Anaga Rural Park. The scenery is absolutely stunning, it was tons of fun, and I learned a lot about not only about canyoning and rapelling, but also what else to visit on the island from our great guide Jorge.
What the tour is like?
In short,
You arrive at the meeting point, then are driven in a van 5 minutes closer to the canyon, followed by a 20-minute walk.
As you arrive closer to the canyon, there is a short training session on using the rapelling equipment and safety tips. Pay attention as this is very useful and 100% covers the things done in the canyon 5 minutes later.
The canyoning part itself lasts between 3-4 hours depending on group size. You descend no less than 7 vertical or near vertical drops.
You return back to the starting point by foot, another 20-minute walk.
For a more thorough and descriptive overview and more pictures, read on.
Length and difficulty
This is not a strenuous activity. If you are able to firmly grip the rope with at least one hand and walk on uneven surfaces, you'll be fine in this tour. No matter what your physical fitness is, you are always secured from the top or bottom by the guide. I would say that the main challenge in this activity is psychological – for people who have never rapelled, it can be a small personal victory to lean over that first precipice and descend.
Lengthwise, the whole activty took us around 4 hours to complete, spending three out of these in the canyon. If you have a larger group, it might stretch out to five hours. We started at 9:30 from the Mirador de la Bermeja, and returned to it at 13:30. Plan sufficient time to get to the starting point. A portion of the road goes uphil in serpentines, and driving is much slower than on a regular road.
The part of the canyon done in the tour is around 1.5 kilometers / 1 mile long. You can check out Barranco de Los Arcos on Google Maps in Satellite view. For pictures see the Visual Guide section below.
Self-led canyoning vs. getting a guide guide
Only experienced mountaineers can do the canyon themselves (and only if you have a permit). Fortunately, for everyone else qualified guide services are available.
Our great guide Jorge (to whom I'll refer throughout the article as he was that good) made all the difference in making our hike not only and enjoyable, but also a very safe experience.
Do not think about trying to do the canyon without mountaineering equipment, it's not possible and you will only hurt yourself or worse. The tallest wall is around 20 meters (22 yards high) and most of the drops are 5-10 meters high and there is no way around them.
About the Barranco de Los Arcos canyon
The Barranco de Los Arcos canyon is located above the La Orotava town and is very close to the Piedra de la Rosa lava formation. The pictures on internet do not lie – the views created by the arches made from volcanic ash in the canyon are really stunning. This definitively is one of the small "brothers" of the Antilope canyon in Arizona, USA.
Geologically, the canyon has formed in a massive deposit of compressed volcanic ash. This is why water has managed to carve out the canyon over millions of years. Besides the canyong walls that remind one of sandstone, you will also see outcrops of basalt, tuff, and three magmatic dikes, as well as "frozen" lava at the top of the canyon in some places that originated in later erruptions.
Most of the canyon is sand-colored, and surprisingly the color tone changes quite a bit from gray to almost bright orange depending on the amount and direction of sunlight. Supposedly, the best time to visit the canyon is on a sunny day around 3-4PM to experience the canyon in all its magnificence (and get those awesome shots for Instagram). While we were in the canyon before noon, our pictures also came out quite good.
Another peculiar fact shared by our guide Jorge – Barranco de Los Arcos is one of the rare canyons on the island that has this sandy/orangen color as most other canyons are gray or black. This has to do with acidity of lava or volcanic ash that forms the canyon. The more acid the mineral, the blacker the canyon; the less acid, the more of those nice sandy and orange colors you get.
Preparations, what to bring, safety
The tour organizers are providing you with the following items:
Helmet.
Harness and carabiners.
None of the organizers seem to provide a pick-up service to the start of the tour, however, you can inquire if they can hitch you along if your routes overlap or for additional cost. At the same time, car rentals are very affordable in Tenerife and you can unite this activity with a visit to one of the many beautiful trails or other sights in the Teide National Park, or elsewhere on the Northern coast of the island like Puero Cruz, Garachico or Icod de los Vinos.
What to wear and pack in your backpack
It is suggested to bring along the following items:
Hiking shoes. This is important – try to take shoes with some kind of a protector. Shoes with flat soles are not advised as you will slip and slide very easily on the sand-covered canyon base.
Water. I recommend at least 0.5-1 liters. While it's nice and cool in the canyon even on hot days, you are still exercising and sweating.
Warm layer. Remember that the canyon is at around 700-800 meters of altitude where there are already clouds. Also – you are in the mountais and weather can change quickly. Rain-clothing is recommended for the December-February period or if the weather is/has been bad.
Long pants. While it's ok to come in shorts (our guide was wearing shorts), long pants are advised to avoid scratches on your legs. You are afterall sliding on rocks and there is some wegetation and branches in the canyon. You will not get terribly dirty though, as the harnesses provided to participants have a special 'canyoning bottom'.
Some snacks or food. While you can go without food, it was nice to have at least a small snack with you to enjoy while everyone else was having a break mid-tour.
If you have long hair, make sure you have something to collect it so that your hair doesn't get stuck in the carabiners.
Big no-nos:
High-heeled shoes
Sandals or flip flops
Smoking. The guide was very serious about this as the vegetation is very dry and flammable on the island. If you need to smoke, bring an electronic cigarette/vape or a nicotine gum.
If you plan to bring photography gear, bear in mind that this is a sandy environment. I probably would not plan on changing a camera lens in the canyon.
Also watch out for the canyon walls. The Barranco de Los Arcos was the location where I finally scratched my Insta360 X3 camera as I had it poking out of my backpack on a stick during the descents.
Insurance
All enterprises in Spain are really keen on insurance and this tour is no exception – you are insured by the company running the canyoning activity. I'm not certain about the exact terms of the insurance, but you would be evacuated out of the canyon in case of need and brought to the closest hospital at the very least.
I would still advise to get a general travel insurance, particularly, if you are not a citizen of the European Union.
Who should not do this activity?
The organizers clearly state that the following persons should not do this activity:
Children under 13 years. Some of the tours on Get Your Guide have an "under 12" restriction. You can always check with the organizers if you have a very responsible child or a kid experienced in hiking. I would not take my 9yo son with me just because he's too distracted, but I wish I could have taken my 12yo daughter with me. She saw the pictures and was mesmerized, and this is a great relationship-building activity.
Pregnant women
People with mobility impairments. While our guide Jorge could have safely lowered any person down the descents, participants still have to do some work and walk to the next descent themselves.
People afraid of heights. I would take this seriously. You literally have to stand on the edge of vertical precipices and descend down. While it's totally safe, the activity can be psychologically challenging. If you have vertigo, there are so many other activities you can do on the island. I would probably also add that this activity might trigger some people with claustrophobia – while the canyon has no really narrow places, it might be difficult for some people to be in a place with very steep high walls for 3-4 hours. Bear in mind that once you have descended the first wall, there is no way back and you have to go until the end.
Visual tour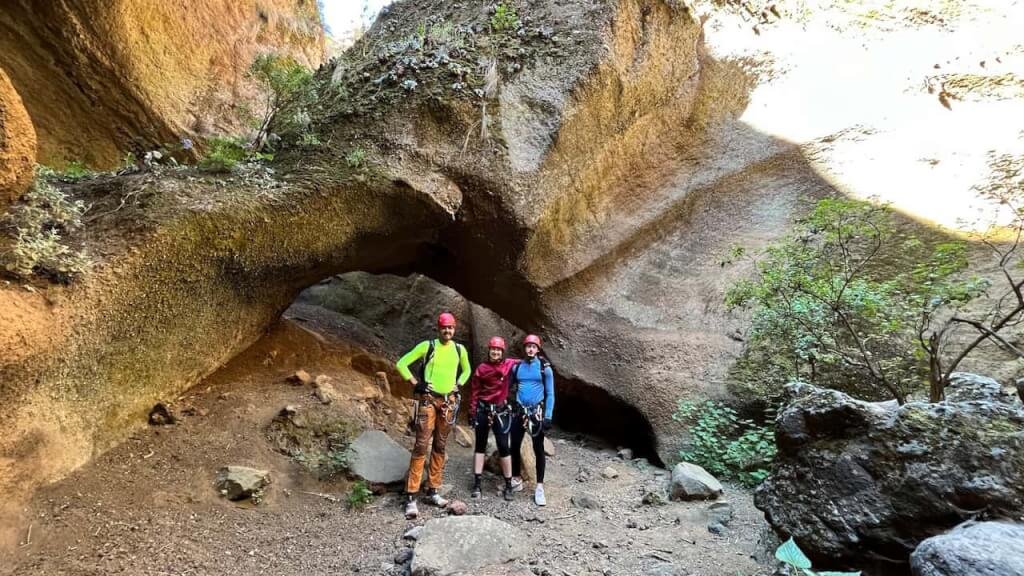 Frequently asked questions
Can/should kids younger than 13 go on the tour in Barranco de Los Arcos?
No. While the guides will help the least fit teenager and adult to descend safely, the canyoning tour is not only about rapelling / abseiling. There are plenty of steep places where one has to get down, plenty of vertical drops which smaller children might not notice, etc.
I hiked a lot in Tenerife with my 9yo son and 12yo daughter, but I would not take my son on this adventure for the above reasons. There are plenty of other things to do on the island, including child-friendly hikes.
Is canyoning in Barranco de Los Arcos physically challening?
To my suprise, I have to answer 'no'. When you are not rapelling / abseiling, you are just walking on an almost flat floor with the occasional easier descent / slide to a lower level.
The physically hardest thing is the beggining of each descent where you have to stand on the top of the rock wall and get yourself over the edge. However, the guide is there to always guide you and make it as easy or hard as you want. The guide can even lower you with the safety rope, but you can also try to do some more physical and harder descents like in the movies.
Is Barranco de Los Arcos are good canyon to do in Tenerife?
There is a reason why the Barranco de Los Arcos is the most widely advertised canyon on the island as it's by far the most beautiful one due to the sand / orange color of the canyon walls.
This canyon also has a good ballance between physical requirements on the participants (low) and the 'fun factor' (high).
Other recommended experiences if you like canyoning
The following are some of our recommendations if you are into active travelling or like exploring geologicial and other natural phenomena.
Ascending the Teide Volcano by foot. This is not for everyone, but it is an unforgettable experience. Ascending the Teide volcano by cable car actually comes relatively close if not to the hiking experience, then at least the view from the Teide peak as the cable car upper station is only 160 meters lower.
Hiking a trail in the Anaga Rural Park. After having done all of the Anaga trails, I can heartily recommend the TF-11 one-way trail from Cruz del Carmen to Punta del Hidalgo, but the TF-6 and TF-8 circular trails were also very nice.
Last but not least, I suggest visiting the Cueva del Viento (Wind Cave in English), one of the longest volcanic tubes in the world. This unique geological formation in the nearby town of Icod de los Vinos will literally give you and inside view of Tenerife's volcanic origins. Check out a video about our family's visit to Cueva del Viento.
Do you have a comment or a question? Please leave it below and we'll gladly answer to you.